Among the myriad reasons world leaders will closely watch the outcome of a fraught US presidential election, the climate crisis looms perhaps largest of all.
The international effort to constrain dangerous global heating will hinge, in large part, on which of the dichotomous approaches of Donald Trump or Joe Biden prevails.
On 4 November, the day after the election, the US will exit the Paris climate agreement, a global pact that has wobbled but not collapsed from nearly four years of disparagement and disengagement under Trump.
Biden has vowed to immediately rejoin the Paris deal. The potential of a second Trump term, however, is foreboding for those whose anxiety has only escalated during the hottest summer ever recorded in the northern hemisphere, with huge wildfires scorching California and swaths of central South America, and extraordinary temperatures baking the Arctic.
"It's a decision of great consequence, to both the US and the world," said Laurence Tubiana, a French diplomat and key architect of the Paris accords. "The rest of the world is moving to a low-carbon future, but we need to collectively start moving even faster, and the US still has a significant global role to play in marshaling this effort."
Few countries are on track to fulfill commitments made in Paris five years ago to slash their planet-heating emissions and keep the global temperature rise to "well below" 2C of warming beyond the pre-industrial era. The world has already warmed by about 1C since this time, helping set in motion a cascade of heatwaves, fierce storms and flooding around the planet.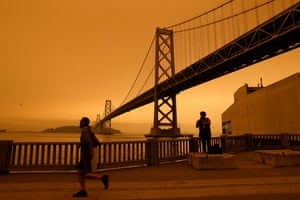 Progress might have been different had Trump not triggered US withdrawal from the fight in 2017, complaining from the White House's Rose Garden that the Paris deal "handicaps the United States economy in order to win praise from the very foreign capitals and global activists that have long sought to gain wealth at our country's expense. They don't put America first. I do, and I always will."
Tubiana conceded the "Trump administration's dangerous anti-climate stance has had a negative impact on international climate efforts", pointing to backsliding by the rightwing governments of Australia and Brazil, which have variously sought to downplay or dismiss the need to cut emissions more rapidly.
Scientists say the world needs to halve its greenhouse gas emissions within the coming decade and essentially eliminate them by 2050 to avoid the worst ravages of the climate crisis. The four years that make up the span of the next US presidential term will be a crucial window of time in which emissions will have to be forced sharply downwards by major…


Read More:Climate at a crossroads as Trump and Biden point in different directions