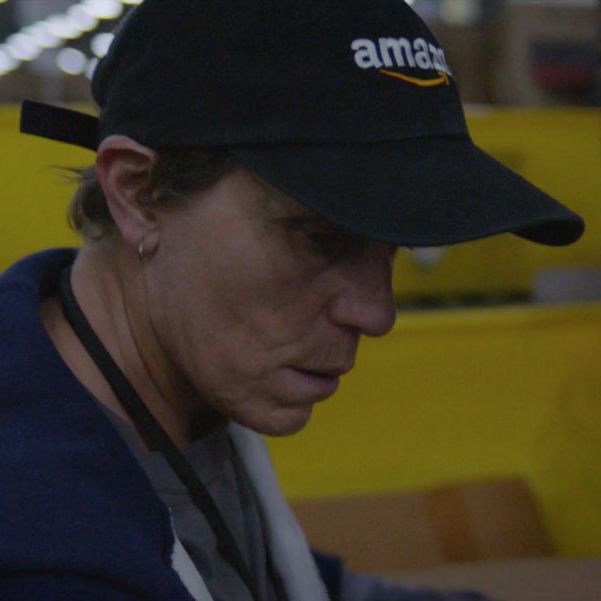 Frances McDormand as Fern in Nomadland.
Photo: Fox Searchlight Pictures
When journalist Jessica Bruder began reporting her 2017 book Nomadland: Surviving America in the Twenty-First Century, the foreclosures and vaporized investments of the Great Recession were pushing many seniors to hit the road. She met elderly Americans across the country who were living out of vehicles to save their meager Social Security benefits and performing grueling physical labor to survive — people like then-64-year-old Linda May. A seasonal worker at CamperForce, Amazon's jobs program for van-dwelling retirees, she experienced dizziness during her shifts at the Amazon warehouse that landed her in the emergency room and got a repetitive motion injury from using her scanner gun. Another CamperForce worker, 71-year-old Chuck Stout was knocked flat by a box that flew off the conveyor belt at Amazon, his head hitting the concrete floor with a thud; moments later, in-house medics had him back on his feet, declared he didn't have a concussion, and sent him back to work.
The nomads didn't get hurt only at Amazon. While working as a campground host in California, Linda May broke a rib while bear-proofing a dumpster; Charlene Swankie, 72, cracked three ribs while campground-hosting in the Rockies. While staffing an amusement park, Steve Booher, 68, fell from a loading platform and onto a conveyor belt, fracturing his skull. He died.
Bruder describes the nomads as "plug-and-play labor, the epitome of convenience for employers in search of seasonal staffing. They appear where and when they are needed. They bring their own homes … They aren't around long enough to unionize. On jobs that are physically difficult, many are too tired even to socialize after their shifts." As one 77-year-old worker told her: "They love retirees because we're dependable. We'll show up, work hard, and are basically slave labor."
Reading Bruder, we understand that these "accidents" are the logical outcomes of an economic system that takes advantage of the country's most vulnerable. So when 60-something protagonist Fern (Frances McDormand) rolls up in an old white van to work at a real Amazon warehouse in the first three minutes of Nomadland, director Chloé Zhao's fictional film adaptation of Bruder's book, we are tensed for class conflict. But Zhao's adaptation, which follows Fern as she drives through majestic landscapes in the American west picking up temporary employment, is only superficially the same narrative.
Already an Oscar favorite, many critics have praised Nomadland as a portrait of modern America. The idea of authenticity has been core to Zhao's previous films, which were developed around the real-life stories of her cast of mostly non-professional actors; she imports this technique to Nomadland, featuring actual nomads from Bruder's book, including Linda May and Swankie. Fern, however, is a fictional character, sutured into the landscape by Zhao and McDormand to be our compassionate, dryly humorous, Shakespeare-reciting guide to the nomadic world. Crucially, unlike the subjects in the book, Fern has no complaints about her jobs—including her time at Amazon. And because the film is primarily a character study of her, it exchanges Bruder's sharp indignation over capitalist exploitation for a muddled message about individual freedom that downplays the real stakes of gig labor.
An Amazon warehouse, as seen in Nomadland.
Photo: Fox Searchlight Pictures
According to the film's backstory, Fern lost her job and house when the United States Gypsum Company shut down, and along with it shuttered the small company town of Empire, Nevada in 2011. Fern is the widow of a man who also worked at the gypsum plant before he died; they never had children. She's haunted by her late husband's memory, recalling a simpler, safer time when "there was nothing in our way." She chooses the road, we learn, not because she has no other options, but so she can mourn, and recover a sense of possibility.
In McDormand's recent Vogue cover story, she reveals Fern was an emanation of a fantasy she had in her 40s, telling her husband, filmmaker Joel Coen: "When I'm 65, I'm changing my name to Fern, I'm smoking Lucky Strikes, drinking Wild Turkey, I'm getting an RV, and hitting the road." It was McDormand, who after reading Bruder's…


Read More:The Problem with Nomadland's Amazon Warehouse Scenes