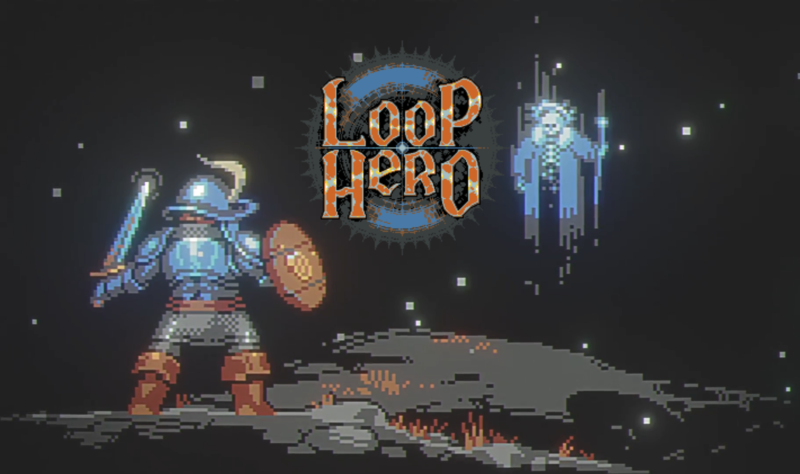 I cannot think of a single YouTube trailer that would do the addictive, compelling new video game Loop Hero an iota of justice. That's not a remark on its 360p resolution or 8-bit color depth; we've seen plenty of games work within such confines while looking beautiful and fluid. But this dark RPG doubles down on simplicity, thanks to itty-bitty sprites, limited animations, and a menu-swapping interface that combine to scream the word "boring."
The game includes some aesthetic exceptions, particularly a few higher-res illustrations, but the point stands. Loop Hero was made to work within the processing confines of an '80s PC, as opposed to immediately capturing your imagination at a single glance. The reason lies in the game's key design principle: in more respects than any other RPG we've seen, Loop Hero wrests direct control away from the player. If you thought the menu-driven combat of pioneering JRPGs was too "hands-on," you ain't seen nothin'.
In a figurative sense, this game reimagines Camelot as a hamster wheel, where knights like Sir Galahad have become tiny, pixellated cogs. Yet as boring as that might sound, I cannot stop playing this game.
After nearly writing off this Devolver Digital game as another uninspired, lo-fi indie game, I decided—admittedly, upon a colleague's prodding—to give Loop Hero a spin. Pretty quickly, I discovered a fascinating twist on the "idle" genre—thanks to how it gives players significant choices, secrets, upgrades, and even a compelling narrative. The results won't be everyone's cup of barely interactive tea, but if you like the idea of a "second monitor" game with tasteful dashes of tower defense and deckbuilding, you should seriously consider running Loop Hero in the background of your nerdy life.
You don't control the game… the game controls you
A simpler version of the Loop Hero map. In this primary "walking around the loop" interface, you're the white character in the top-right of the loop.

A slightly more fleshed-out version of the Loop Hero map in a run that has made greater progress. Tons of landmarks have been placed, and this player has a few more available as "cards," though they can only be placed in specific zones based on their types.

Battles start out simply enough against single opponents. You cannot control these at all, with the exception of being able to put on new, better equipment if any drops in the middle of a fight.

Battles scale up as you take on "advanced" runs later in the game.

Sometimes, the game's animations and attacks rise above mediocrity for flashy moments like this one.

Between runs, go back to your safe encampment to upgrade buildings and add new abilities and classes to your future attempts.

Use resources gathered in each loop to build new, useful buildings.

A more built-out encampment.

The further you play, the more "cards" you'll unlock. You can only have so many in your deck per loop run, and they limit your default landmark-building options.

Much of the game's plot unravels as…


Read More:Loop Hero review: I've somehow gotten hooked on an RPG that plays itself