What you need to know
OneDrive on Windows 11 will now show a prompt and make you answer questions when you attempt to close the application.
The new behavior was spotted recently and only appears on some PCs.
Microsoft has a long history of placing advertisements, polls, and prompts into its operating systems.
---
Update 11 November at 7 AM ET: Microsoft has since backtracked on its decision to show a prompt when a person attempts to quit OneDrive. The company shared a statement with The Verge regarding the behavior that was tested:
"Between Nov. 1 and 8, a small subset of consumer OneDrive users were presented with a dialog box when closing the OneDrive sync client, asking for feedback on the reason they chose to close the application. This type of user feedback helps inform our ongoing efforts to enhance the quality of our products."
The original story follows.
---
Microsoft found a new way to irritate Windows 11 users recently. Now, if you try to quit OneDrive on Windows 11, you'll see a prompt that includes a questionnaire on why you want to quit the app. The option to quit OneDrive remains greyed out until you select a reason.
The prompt only appears for some users at the moment. Taras Buria from Neowin highlighted it, but the same prompt does not appear on my PC. There's a good chance Microsoft is testing the behavior with select groups or as part of a phased rollout.
If you are one of the "lucky" few to see the new prompt from Microsoft, you'll see the following options:
I do not want OneDrive running all the time
I do not know what OneDrive is
I do not use OneDrive
I am trying to fix a problem with OneDrive
I am trying to speed up my computer
I get too many notifications
Other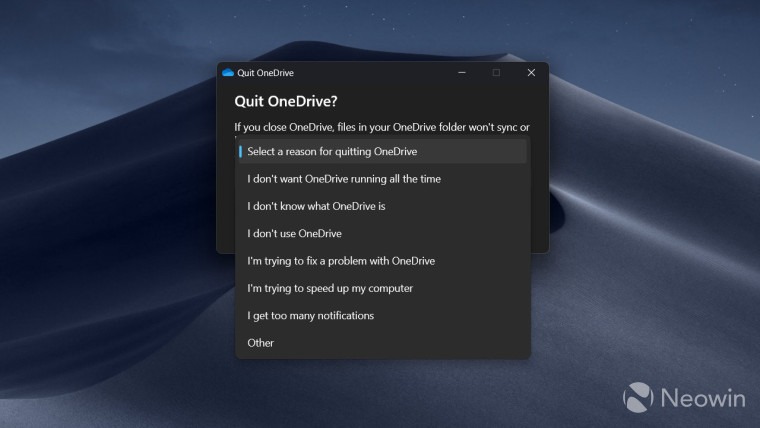 Windows 11 has a variety of ads and prompts, ranging from full-blown product placement for third-party applications to invitations to use Microsoft's apps and services. There's some debate regarding if a prompt on a Microsoft OS for a Microsoft product is an ad or a suggestion to get an optimal computing experience, but some are annoyed nonetheless.
• Is Microsoft putting ads in the Windows 11 Start menu?
• How to disable annoying ads on Windows 11
The new OneDrive prompt is particularly aggressive because it requires you to answer the question to quit OneDrive. A similar survey asking why you'd want Chrome rather than Edge can be closed or ignored.
How to close OneDrive on Windows 11
The option to quit OneDrive is either hidden or in a confusing place, depending on your perspective. To quit the app, you need to select the "Pause syncing" option. Then, you'll have the choice to quit the app entirely.
If you'd like to keep OneDrive open but pause it due to limited internet connectivity or to free up system resources, you can just elect to pause syncing. 




Read More:Microsoft now asks why you quit OneDrive on Windows 11