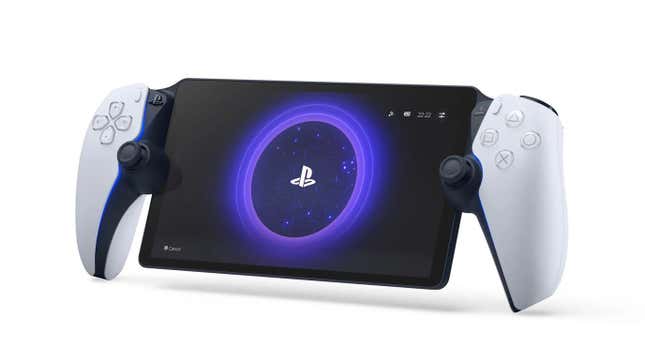 There's no getting around it. The PlayStation Portal, Sony's new wireless PS5 handheld, is very weird-looking. Essentially a DualSense controller split in half with a touchscreen in the middle, it's the handheld equivalent of a Hummer turned into a stretch limousine. When I saw the first images of this thing online, my initial thought was someone had drawn this thing on a bar napkin or outgoing PlayStation boss Jim Ryan had lost a bet.
Thank You, PS Plus, For Making My Backlog Even Bigger
Once I opened the box, which is a little bit smaller than a pair of sneakers, that perception was unchanged. It still looks like someone made a boomerang out of a Kindle. It has the same pleasing-to-the-touch, but grime-magnet texture on the back of each controller arm.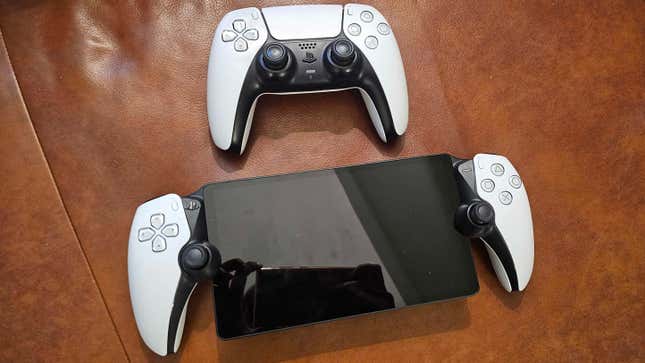 But despite its strange aesthetics, Sony's handheld feels awfully nice in your hands. The semi-detached handles shift the center of gravity toward the center of the screen, allowing it to feel a little bit lighter than it actually is. The rounded sides are significantly easier on the palms of your hands than the squared-off bottom edges of the Switch or the Steam Deck. It feels more like holding an actual controller than a big ol' rectangle of plastic. Who'da thought?
The handles are roughly an inch shorter than those of the standard DualSense, which I expect might take a little bit of getting used to. My hands naturally sit a little further forward of the control sticks on the Portal than the DualSense, and I can imagine needing to adjust my grip occasionally while I get used to driving this beast.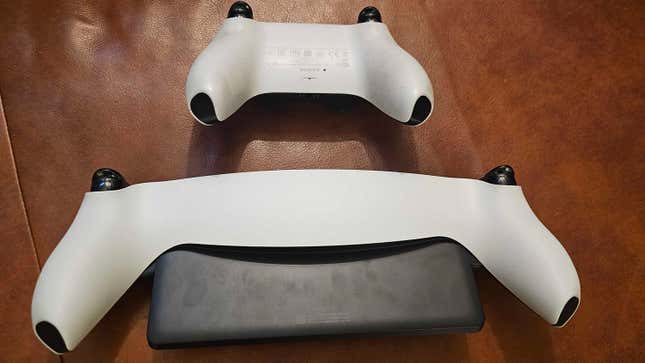 The Portal is far more robustly constructed than I expected, and there's no give or torsion if you tug at the handles. The bottom corners of the screen could be vulnerable to cracking after a drop—there isn't much in the way of a protective bezel around the lower third of the screen. That said, the screen is solidly mounted to the frame in a way that belies the rather spindly look of the Portal.
Annoyingly, Sony's handheld doesn't come with a dedicated power brick—just a USB cable for you to use with another adapter or to plug into the front of your PS5. The power cable goes in the center-back of the screen, right under the white armature. It's a little fiddly to get to, but not quite as annoying as the cable housings on the Switch dock.
We'll have a full rundown of Sony's new handheld next week. PlayStation Portal launches November 15 (see at Best Buy).