The DJI FPV has officially landed – and this 'First Person View' flier is promising to be an exciting cross between a racing drone and a cinematic, sky-based camera like the DJI Mavic Air 2. (Want to skip to our early impressions? Head to our hands-on DJI FPV drone review).
The DJI FPV differs from the company's other drones in one key way – rather than flying it via a video feed on a controller screen, you instead get an on-board view thanks to some bundled, head-mounted goggles. This promises to give you the experience of flying like an eagle, or being in the real-world cockpit of a plane on Microsoft Flight Simulator.
In this sense, the DJI FPV is similar to racing drones, which have become increasingly popular with the rise of professional competitions like the Drone Racing League (DRL). But DJI's new 'ready-to-fly' drone is less targeted at racing, and more towards beginners who want to try the FPV experience while shooting 4K aerial videos. 
While the DJI FPV can't quite match the 120mph top speeds of pro racing drones, it is nippier and more nimble than any Mavic drone, thanks to a top speed of 87mph and the ability to zip from 0-62mph in just two seconds.
What's an FPV drone?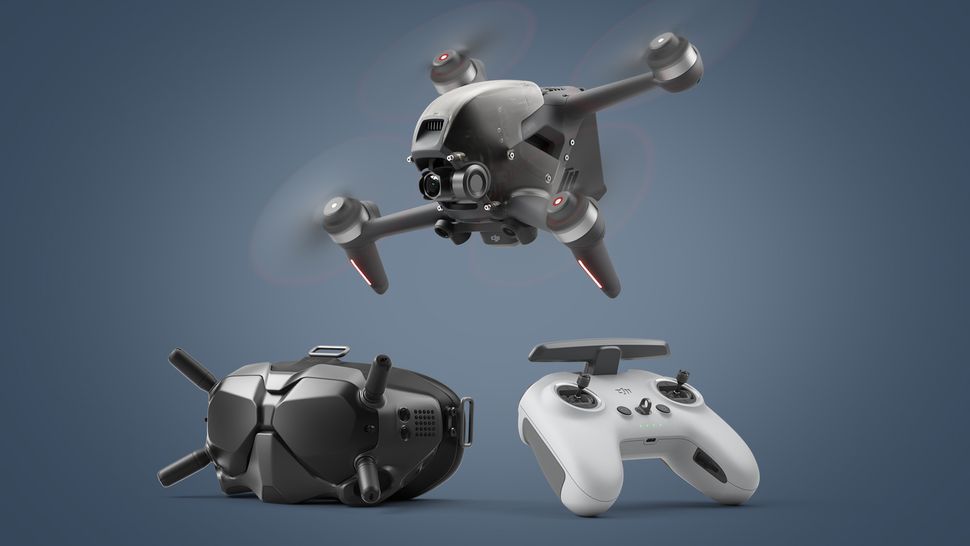 FPV (or First Person View) drones are ones that are flown using a set of head-mounted goggles, which gives the pilot a live video feed from the drone as it flies through the sky, plus a controller. This differs from traditional drones, which send their video to a controller or smartphone screen. 
It's the combination of these speeds with the DJI FPV's strong filmmaking talents that promise to make it a unique drone. It can shoot 4K/60p video with RockSteady image stabilization and a decent 120Mbps bit-rate, all via its 150-degree wide-angle lens.
The DJI FPV's 1/2.3-inch CMOS sensor is smaller than the ones found in the DJI Mavic 2 Pro and DJI Mavic Air 2, but the same size as the DJI Mini 2's chip. This means you can expect decent quality video and images in good light, albeit via a very wide-angle lens. 
But the DJI FPV's USP is really that ability to get a soaring view of landscapes and scenery via the included DJI Goggles V2, and also the ability to control it using DJI's new optional single-handed motion controller, which lets you fly the drone using hand movements.
Image 1 of 2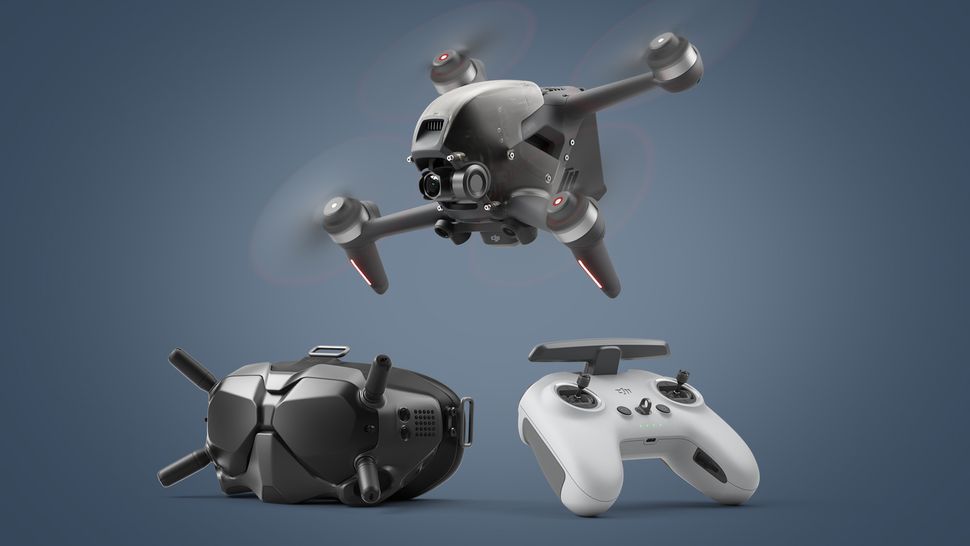 Image 2 of 2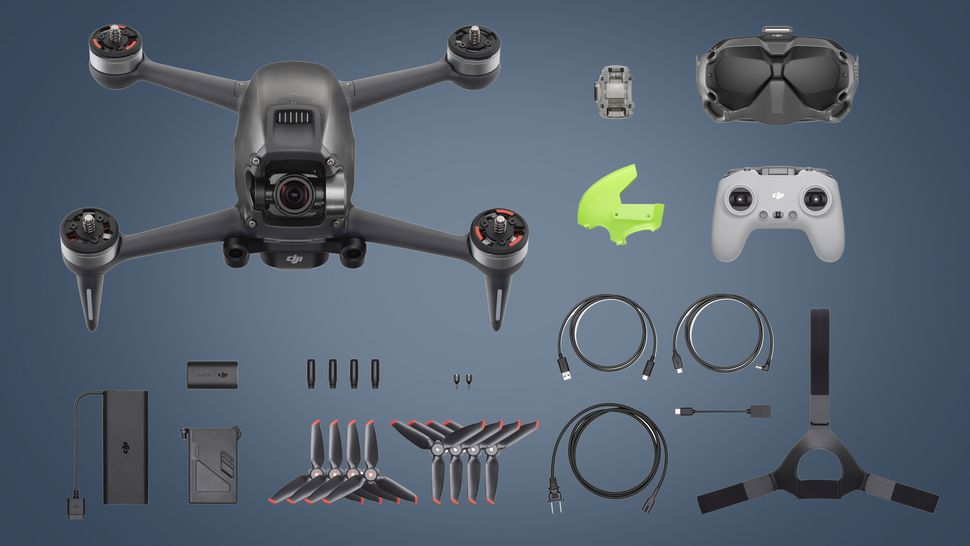 Under control
In the standard DJI FPV Combo bundle, you get the drone, a standard remote controller, FPV Goggles V2 and all the other accessories in the images above. But DJI is also selling that optional Motion Controller, which promises to let you fly the drone using your hand movements – making it work more like a VR headset than any previous DJI drone.
The Motion Controller (below) is an intriguing accessory that aims to make FPV drones more intuitive and beginner-friendly than before. It includes some handy safety features, including a brake button – press this once and and the drone will do an 'emergency brake and hover', while a long press activates the 'return to home' function.
Whether you're using this motion controller or the standard pad, you'll always need the FPV Goggles V2 to see where you're flying. These show a live video feed from the drone in 810p quality at either 60fps or 120fps, depending on which quality mode you choose. And from up to 10km away (if you're in the US), or 6km for fliers everywhere else in the world. 
The big technical challenge for FPV drones has always been latency – in other words, a delay in data transfer between the drone and goggles. Even a tiny lag can mean the drone actually being a few feet away from the position a pilot sees in their headset, but DJI claims to have solved this with the latest version of its Ocusync technology, called O3. This promises to send a high bit-rate 50Mbps feed to the Goggles and apparently brings new anti-interference tech to ensure you get a reliable feed.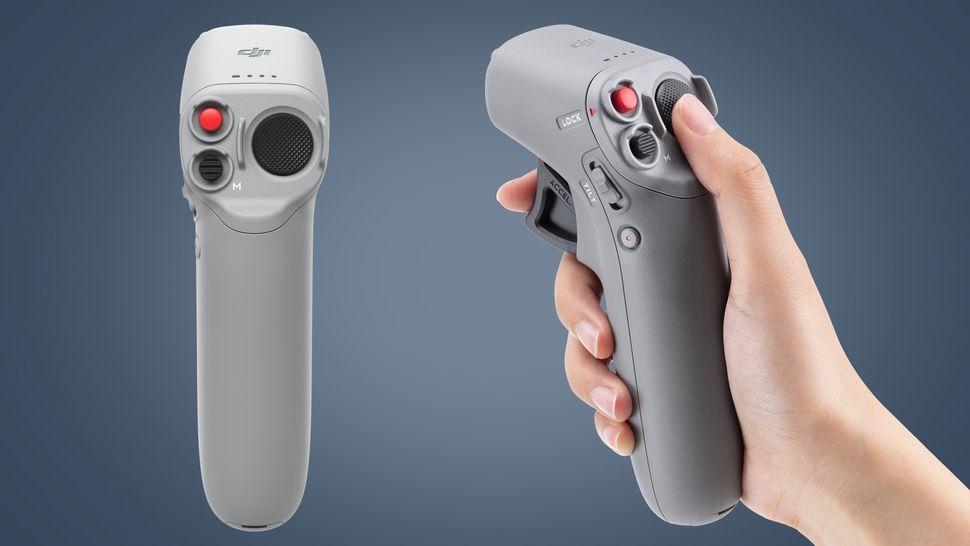 Safety first?
Despite these promises of O3's reliability, there will naturally be safety concerns about the prospect of beginners flying an 87mph drone around using a video headset to guide their movements.
But DJI again thinks the combination of its safety features, and drone laws, will be enough to ensure safe flight. For a start, those drone laws mean that in most regions, including the US, UK and Australia, you will legally need to be accompanied by an observer or 'spotter' when flying the DJI FPV, seeing as it's not possible to maintain direct line of sight while wearing the Goggles.
Also, alongside that 'Emergency brake and hover' function on the motion controller, DJI has packed in its usual GPS-based geofencing warnings and ADS-B receiver system, which warns you when other manned aircraft are nearby.
If that legal requirement to be accompanied by an observer while…


Read More:The DJI FPV drone takes you into the skies with its 4K camera and video goggles